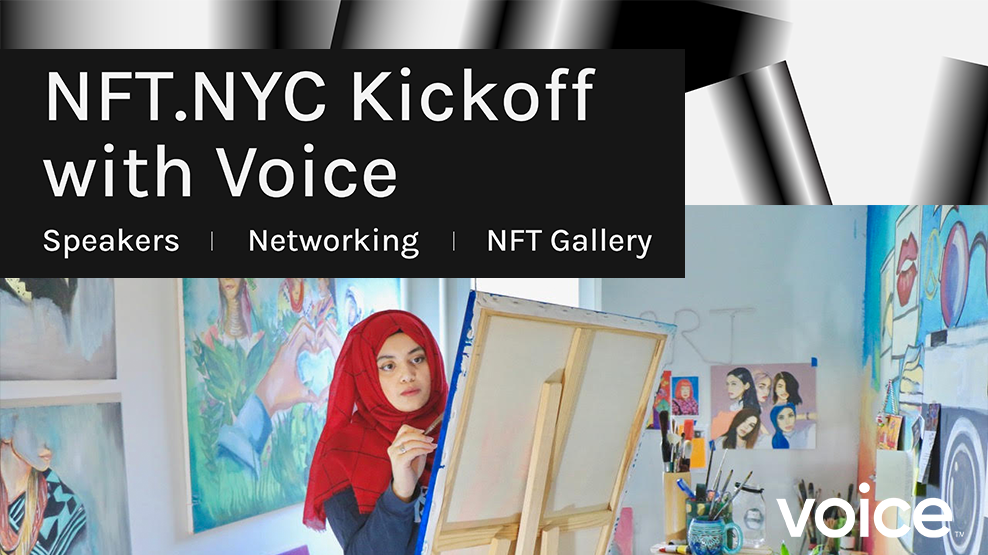 译文/Translated:
NFT的崛起代表了很多事情,其中就包括给数字艺术家带来了过去几十年他们未能享受到的更多机会。比如说:在传统画廊展示自己的作品。
11月1日,星期四,纽约布什威克DorDor画廊将展出来自Voice NFT艺术家的25幅作品。
我们高兴地宣布,本次展览的策展人是Maliha Abidi,她是巴基斯坦裔美国人,作家和Story of Mental Health平台的创立者。她的作品关注女权、心理健康、性别平等、女性教育、扩大边缘社区的声音。
Abidi的使命和Voice包容的目标一致,我们希望能把NFT的力量带给每个人。
"我很高兴能策划这次展览,把传统和数字作品结合起来,"Abidi说,"同时还让NFT艺术家能有机会在实体空间展示自己的作品。"
提交作品
十月一日开放提交渠道,25日将会宣布结果。
作品必须是在Voice上制作的NFT,除此之外,没有任何要求。你可以提交诗歌、画作、3D卡通等。如果你的NFT作品还有补充的实体元素,你也可以选择同时展示。
参加方式
门票肯定也是NFT,DorDor画廊限量制作了一些门票。如果你还没有门票,现在就可以创建Voice账户,在这里购买门票。要参加11月1日的展览,你的Voice账户必须有一张门票。
原文/Original:
The rise of NFTs has represented many things, one of which increased opportunities for digital artists that didn't exist in decades past. One such opportunity: display in a traditional gallery environment.
On Monday, November 1, the digital displays at DorDor Gallery in Bushwick, New York will feature 25 works from artists who have created NFTs on Voice.
We are pleased to announce that the works will be curated by Maliha Abidi, a Pakistani-American artist, author, and founder of "Story of Mental Health". Her work focuses on women's rights, mental health, gender equity, girl's education and amplifying the voices from the marginalised communities.
Abidi's mission aligns with Voice's goal of inclusivity, bringing the power of NFTs to everyone.
"I am excited to curate this gallery because it is a beautiful way through which the traditional and the digital are coming together," says Abidi, "while giving NFT artists an incredible opportunity for their work to be exhibited in a physical space."
Submit your work
Submissions opened October 1st and artists selected will be announced by October 25th.
Submissions must be NFTs minted on Voice, but beyond that the possibilities are endless. Display your poetry, paintings, 3D animations, and more. If your NFT has a complementary physical element, you have the option of showcasing that as well.
Interested in attending?
Our tickets are NFTs, of course, minted by the DorDor Gallery in a limited amount. If you haven't already, create your Voice account then buy tickets here. You must have a ticket in your Voice account to enter on November 1.
原文链接/Original URL: