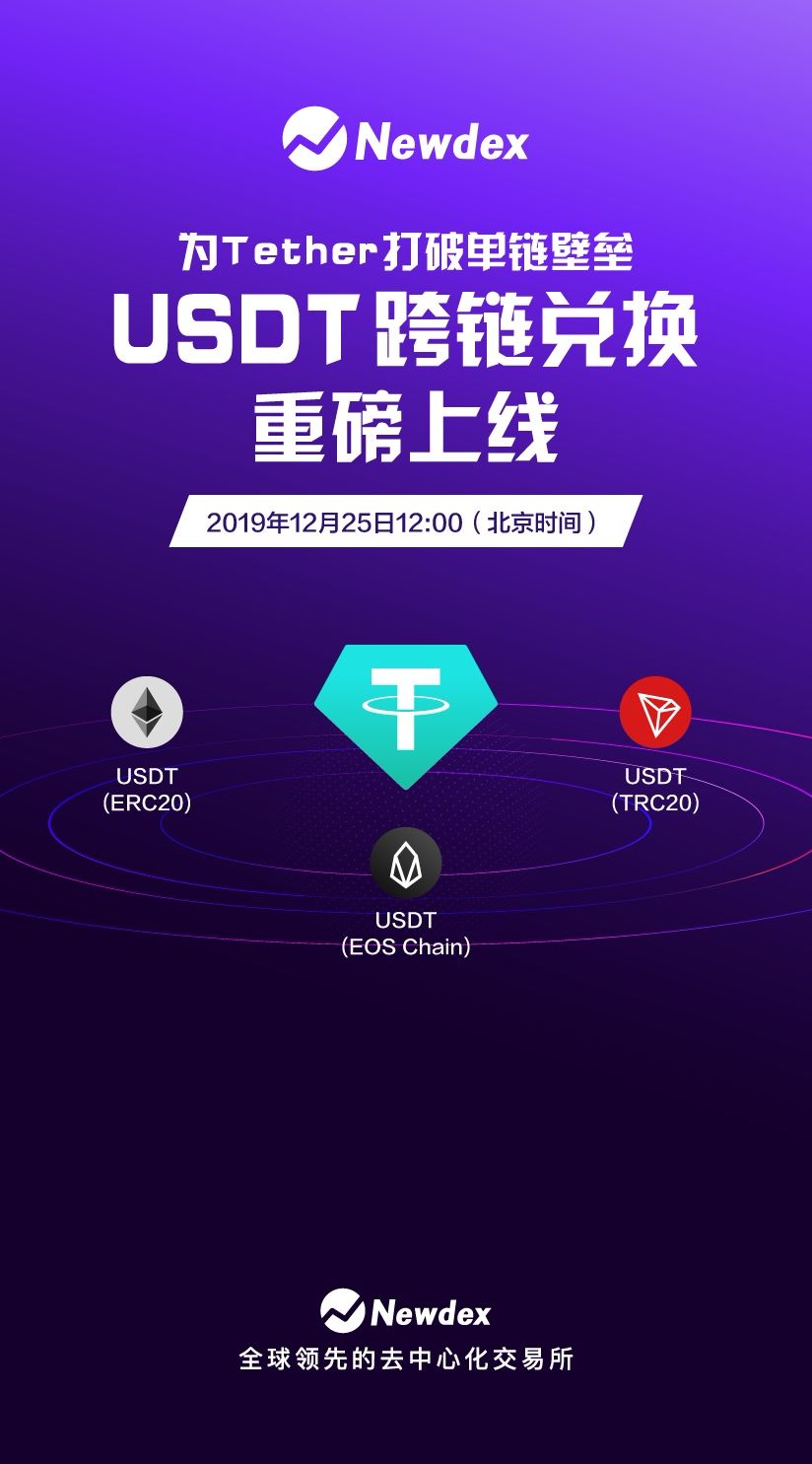 原文/Original:
全球领先的去中心化交易所Newdex于北京时间2019年12月25日12:00,正式上线"USDT跨链兑换"功能。
区块浏览器Bloks.io数据显示,Newdex占据EOS链上USDT的90%以上交易量。Newdex的USDT跨链兑换功能,支持EOS链上的USDT与以太坊、TRON链上的USDT自由兑换,为Tether打通多链USDT快速兑换渠道,实现USDT的自由流动。
USDT(ERC20)兑换USDT(EOS)步骤如下:
登录Newdex网页版,或钱包嵌入版(如TokenPocket、imToken、比特派、MEET.ONE、麦子钱包、火币钱包等20家钱包,"发现"栏搜索Newdex并进入),点击"USDT跨链兑换"功能,即可实现。USDT(TRC20)兑换流程与USDT (ERC20)一致。
稳定币跨链兑换为EOS、ETH以及TRON三大公链的用户打通交易壁垒,自由穿梭三大公链dapp,还等什么,赶快来体验吧!
译文/Translated:
On Beijing time, 12:00 of October 25th, 2019, the global leading decentrialized exchange Newdex official launched "USDT cross-chain converting"function.
According to the statistics revealed by block-browser Bloks.io,
Newdex occupies 90% of USDT exchanges on EOS chain. The USDT cross-chain converting on Newdex supports free convertibility between USDT of EOS chain and that of Ethereum, opening up the channel of multi-chain rapid exchange of USDT for Tether, so as to archive the free mobility of USDT.
USDT(ERC20) converting to USDT(EOS) follows steps below:
Login Newdex web version or the wallet embedded (such as TokenPocket, imToken, Bitpie, MEET.ONE, Math wallet, Huobi wallet and more, 20 versions in total), searching "Newdex" in search bar and clicking on "USDT cross-chain converting"function, then you are there.
Cross-chain converting among stable currencies breaks up the trade barrier for users of three public chains, EOS, ETH and TRON, to enjoy free mobility among three dapps. What are you waiting on? Come to try!
原文链接/Original URL: